It was almost a year ago to the day when I received the email from my buddy Dan at Domain Colosseum. It was short and to the point, the business they had started was no longer going to be profitable, so they decided to cut their losses and shut it down.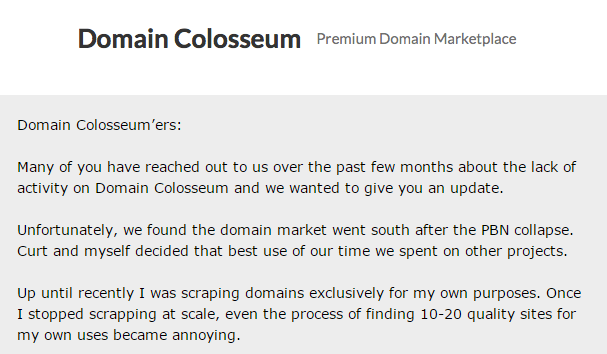 I was kind of surprised to be honest, my business partner Doug and I had been selling expired domains in the Facebook groups, and despite the PBN doom and gloom – had noticed strong demand for high quality expired domains. So much so, we invested thousands of dollars every month into in-house spam-checking tools, training for our spam-checking team and a new user friendly expired domain market place under the PBN HQ brand.
We decided that we'd ask Dan and Curt if they wanted to sell off the web assets they had – such as their articles, domain etc, and they were happy to. A deal was struck and all content on the old site was republished here on PBN HQ.
I wanted to put up a quick page for those visitors who suddenly appeared here when clicking a Domain Colosseum link – and it's all above board, we are just migrating everything to this new domains.